Detalles

Visto: 1796
In the community of Cerro de las Huertas, Ejutla de Crespo (Oaxaca) representatives of 48 communities and 30 social organizations participated on January 29 and 30 in the Conference of Communities and Organizations against Mining, in which they demand the state and federal governments for cancellation of all mining projects in Oaxaca. The goal, according to the "Colectivo Oaxaqueño en Defensa de los Territorios" and the organizing communities, was to create a space for reflection at the national level about the advancements and obstacles of the anti-mining movement in order to strengthen the resistance and defense of communities and organizations.
Leer más: Oaxacan communities strengthening resistance against mining
Detalles

Visto: 1952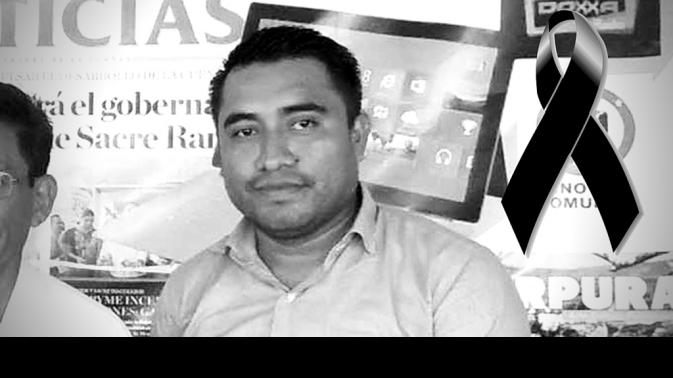 On January 21, 2016 another journalist was gunned down in Mexico recently, his name is Marcos Hernández Bautista, 38 years old, journalist from "Noticias - Voz e Imagen de Oaxaca". Hernández Bautista was killed in San Andrés Huaxpaltepec, in the coastal district of Santiago Jamiltepec, Oaxaca. They found his body slumped by his car. He's the fifth journalist killed under Gabino Cué's term as governor. According to police forces, the communicator was killed instantly by a 9mm bullet in his head.
Leer más: Human Rights Defenders demand justice for journalist killed in Oaxaca
Detalles

Visto: 1359
Between January 10 and 11, agrarian authorities, communities and non-government organisms made the Caravan of Civil Observation and Solidarity for Chimilapas to San Francisco de La Paz community, in the municipality of Santa Maria Chimilapa, Oaxaca. Those present noted the repeated incursions against communal territory, particularly on the property of San Isidro la Gringa. They were also witnesses to the "call for justice and respect for human rights of the town and the indigenous families who live there."
Leer más: Oaxaca: Caravan of Civil Observation and Solidarity for Chimalapas
Detalles

Visto: 2269
It looks like many Coca-Cola ads with long-haired teenagers teaching the world to sing or sharing a Coke and a smile. But the new "Open Your Heart" campaign by Coca-Cola Mexico is coming under fire.
Consumer rights and health groups are calling on the Mexican government to ban the promotional video depicting young white people handing out Coke as a service project at an indigenous community in southern Oaxaca state.
Detalles

Visto: 2169
In the last week the "First International Congress on Comunalidad" about communal struggles and strategies has taken place in Puebla, México. It was a plural space with the aim of engaging in rigorous and profound discussions on economic, social and political issues related to the horizons opened through community-popular struggles. This debates on comunalidad, communalism, and struggles for the commons have proven their relevance for the understanding of new social and political problems in moments of crises of capitalism.
Hereafter summary of the article about oaxacan comunalidad by the zapotec anthropologist Jaime Martínez Luna, who took part in the Congress:
The history of Oaxaca has been interwoven with principles and values that display its deeply rooted comunalidad. For the Oaxacan people across many centuries, this has meant integrating a process of cultural, economic, and political resistance of great importance. Since the Spanish conquest individualist and mercantilist as it was Oaxaca has responded with a form and reason for being communal that has permitted it to survive even in the face of an globalizing process. The concept of comunalidad, can be seen as the central concept in Oaxacan life.
Leer más: Horizons beyond Capitalism - Comunalidad in Mexico